The information you need from a team you can trust.
Cityblock is committed to supporting you 24/7 with honest answers and the most up-to-date information. We're now able to vaccinate eligible New Yorkers. Call us to learn more and schedule an appointment.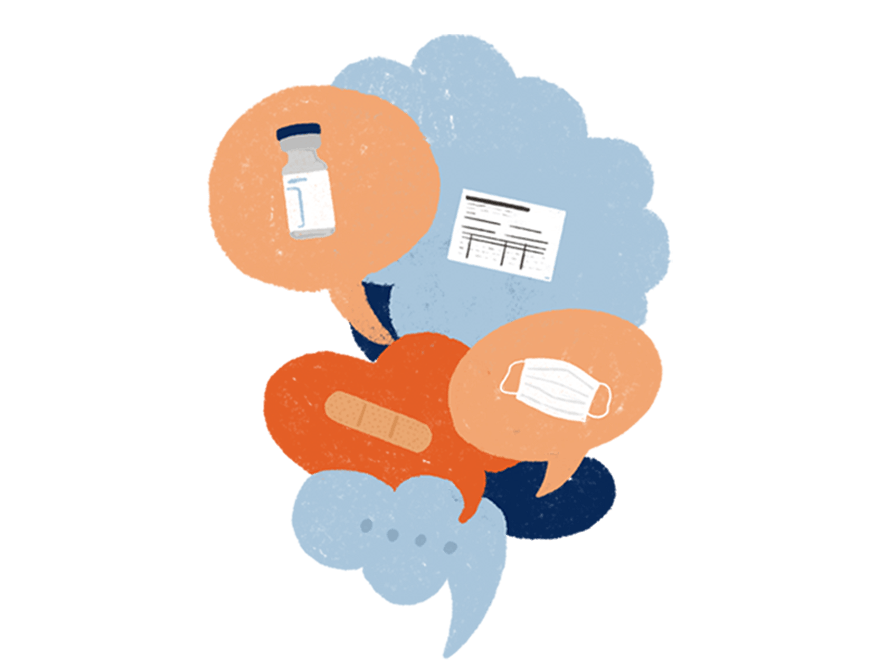 Learn about the vaccine
We trust the FDA's approval process around the vaccines' safety and effectiveness, but we recognize there are still some unknowns and hesitation. Getting the vaccine is a personal decision. We recommend considering the vaccine because it may help protect your friends, family, and community. Even if you're not worried about yourself, and even if you've already had or think you've had COVID-19, the vaccine can help prevent serious illness from COVID-19.
Know COVID-19 Symptoms
People with COVID-19 have had a wide range of symptoms reported – ranging from mild symptoms to severe illness. People with these symptoms may have COVID-19:
Fever or chills, cough, shortness of breath, fatigue, headache, new loss of taste or smell, sore throat, congestion or runny nose, nausea or vomiting, diarrhea.
Get tested
If you have any COVID-19 symptoms, have been in close contact with someone who has tested positive for COVID-19, or taken part in activities that put you at a higher risk for COVID-19, we recommend getting tested.
Call us, and we can talk about the options that work best for you and your family.
Call us now
Check your vaccine eligibility
The CDC recommends that everyone 12 years & older receive a COVID-19 vaccination.
FAQ
What is an "essential worker?"
"Essential workers'' are people who had to continue to work even during the pandemic. Our society relies on them for public transportation, food service, health care, and emergency response. People like grocery store workers, transit employees, janitorial staff, and teachers are essential workers. 
In almost all states, essential workers are being offered the vaccine first to stay safe at work.
Why should I get the vaccine?
Getting the vaccine may help protect our friends, family, and community — even if you're not worried about yourself and even if you've already had or think you've had COVID-19. The vaccine can help prevent serious illness from COVID-19 and may lower the chance of spreading the virus to your loved ones.
We believe that the vaccines' benefits outweigh the risk for most community members, especially high-risk individuals (and folks in contact with them). This includes risk due to age, pregnancy, or chronic medical conditions.
Cityblock Health is recommending the vaccination to our staff and the entire community.
I don't trust the vaccine / I want to wait to see if the vaccine is safe.
We understand that there may be concern over the safety and efficacy of a COVID-19 vaccine. The U.S. vaccine safety system ensures that all vaccines are as safe as possible. Remember that there has been much scrutiny of the U.S. Food and Drug Administration's (FDA) process for overseeing the many different vaccine trials.
The FDA is required to make decisions guided by science and data regarding authorization or approval of COVID-19 vaccines. We have confidence in the FDA's approval process and are committed to safety, quality, and high reliability. You cannot develop COVID-19 from this vaccine.
Additionally, the CDC has developed an additional layer of safety with a tool called V-safe. It's a smart-phone based tool that uses text messaging to provide health check-ins to people who receive the vaccine. This means that if something goes wrong, the medical community will know right away. 
I already had COVID-19. Do I need the vaccine?
Yes! Although getting COVID-19 does give some immunity to the infection, there is not enough information to say if or for how long that immunity lasts. There have already been people who have gotten COVID-19 twice! 
The vaccine can help to prevent that. Testing for antibodies to COVID-19 as a marker of a past infection is not recommended before vaccination.
How is the vaccine given?
Just like the flu vaccine, the vaccine is injected into the muscle. The Pfizer and Moderna COVID-19 vaccines require two doses, an initial vaccination, and repeat vaccination 3 or 4 weeks later. The Johnson & Johnson vaccine only requires one dose.
How long will I be protected from COVID-19 with the vaccine?
Emerging evidence suggests that protection from the COVID-19 vaccine does begin to wane over time. To better understand specifically when immunity wanes and how to address this concern, researchers are continuing to monitor antibody levels in vaccinated individuals, as antibodies are a good marker for protection against a virus. More information on vaccine monitoring can be found here.  
Additional vaccine dose approvals and recommendations from the FDA and CDC are forthcoming,  and evidence still shows that a fully vaccinated individual (two doses of the Pfizer or Moderna vaccine and one dose of the Johnson & Johnson vaccine) is better protected against severe illness and death than an unvaccinated individual.
Do I need to receive both doses of the vaccine?
You need to receive both doses of the Pfizer and Moderna doses. Those vaccines are a 2-dose series and require both doses to be considered fully vaccinated. Protection against COVID-19 from the vaccine is not immediate, and immune-protection is achieved two weeks after the second dose.
Are the existing vaccines (Pfizer, Moderna, J&J) effective against the Delta variant?
Yes. The existing vaccines in the US have all proven effective against the Delta variant in preventing severe disease and death. However, fully vaccinated people can still contract a Delta variant breakthrough infection and can spread the virus to others. However, vaccinated people appear to be infectious for a shorter period.
All vaccines have been proven effective. Administration of the Johnson & Johnson vaccine has been lifted for all adults based on the CDC's recommendation. The FDA will make recommendations on resuming the J&J vaccine soon. If you have an appointment with the other two vaccines, please keep that appointment.
COVID-19 Myths and Facts
Myth: The vaccine came out too quickly to be safe.
Fact: The vaccine came out quickly because many scientists worldwide moved very fast to respond to the emergency. It's important to note modern scientific tools are faster than older ones and led to the expedited development of the COVID-19 vaccines. Additionally, there was a worldwide effort to reduce or remove the usual barriers and delays in vaccine research, production, and distribution. People all over the world also volunteered quickly to be in the trials. All available information suggests that the vaccine is safe.
Myth: The vaccine has something in it that will change my DNA and could change me?
Fact: The vaccine does have something in it that fights against the virus. It's called messenger RNA; this does not do anything to your DNA and doesn't go into the part of your cells that has your DNA. It's designed just to fight the virus
Myth: The vaccine could give me COVID-19.
Fact: The COVID-19 vaccine can't give you COVID-19, although some people have mild cold and flu-like symptoms. These include a short fever, headache, tiredness, sore arm, or chills, especially after the second dose. This is the immune system doing its job. Other reactions are infrequent.
Myth: The vaccine has things in it that are either dangerous or go against my personal beliefs.
Fact: We've heard people say that the vaccine has live or whole coronavirus, microchips, tracer technology, fetal tissue, stem cells, mercury, aluminum, luciferase, pork products or preservatives. None of these are in the vaccine and none were used to make the vaccine.
Myth: The Coronavirus is changing and that means that the vaccine won't work anymore.
Fact: The coronavirus is changing. But vaccines are designed to help the body recognize it based on multiple parts of the virus. Although we do not know for sure, we do not believe that the virus will change enough to make the virus not work.